TRANSFORMING DENSE BREAST SCREENING
SoftVue™ 3D Whole Breast Ultrasound Tomography is FDA PMA approved specifically for dense breast screening
DENSE BREAST SCREENING CHALLENGE
Mammography misses more than 40% of cancers in dense breasts & 40% of women in the U.S. have dense breasts
BREAST DENSITY INCREASES CANCER RISK
Compared to women with fatty breasts, women with dense breasts have 4-6 times greater risk of developing breast cancer
MAMMOGRAPHY IS NOT ENOUGH
SoftVue™ combined with mammography increases cancer detection by 20% compared to mammography alone
How can we support you today?
The SOLUTION for Dense Breast screening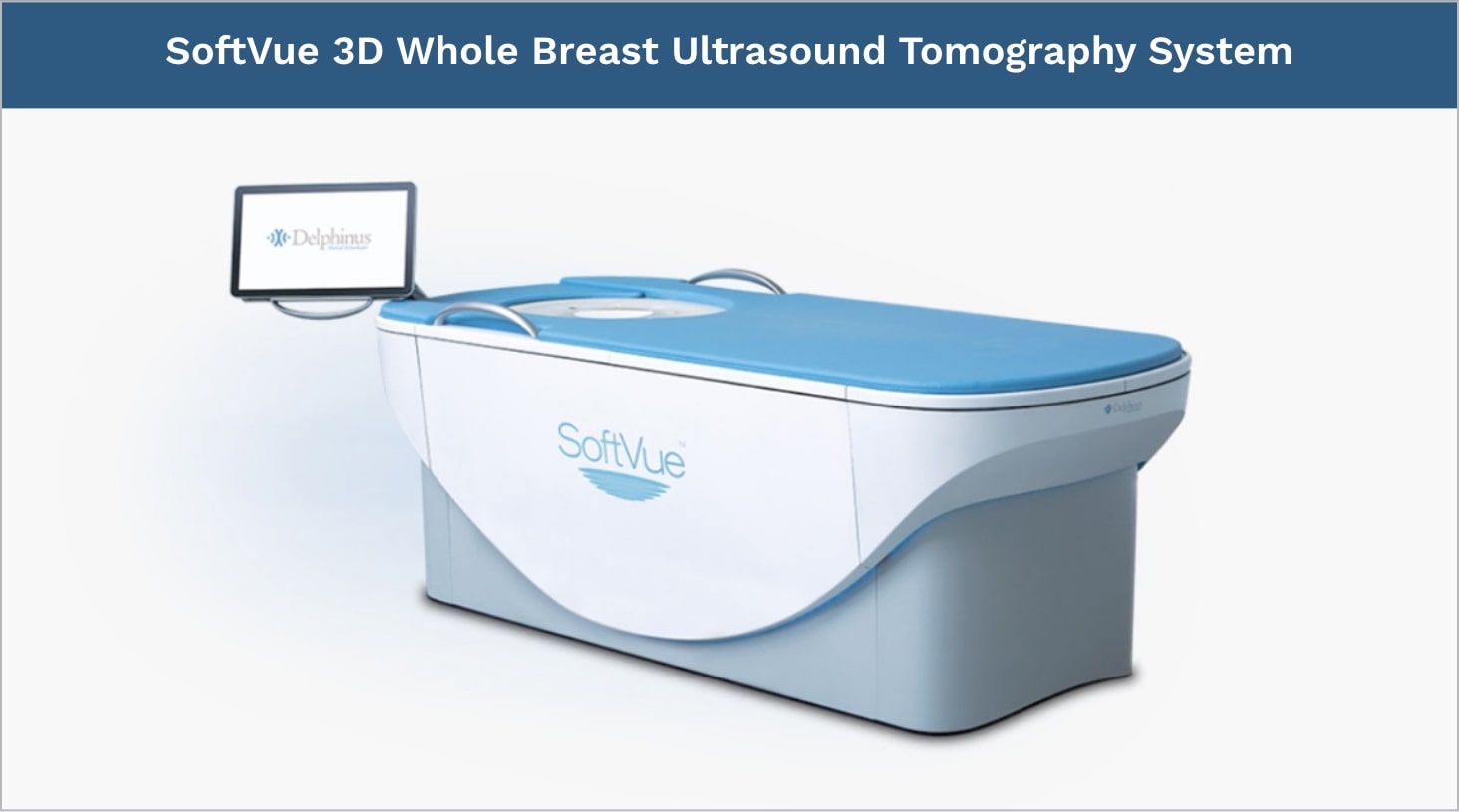 The SoftVue™ 3D Whole Breast Ultrasound Tomography system transforms the diagnosis of breast cancer in dense breast tissue.
As an adjunct to mammography, this breakthrough system delivers a transformational approach to breast cancer detection. It is FDA approved, features a comfortable contoured tabletop, and is a first-ever in medical imaging.
The SoftVue™ 3D Whole Breast Ultrasound Tomography system:
Offers a unique circular
triple-acoustic transducer
Provides reflection imaging
for tissue structure
Captures the transmission signals
passing through the tissue
SoftVue™ is the first supplemental imaging modality to improve both sensitivity and specificity in breast cancer screening for women with dense breasts.
SoftVue incorporates over 2,000 transducer elements within a uniform ring configuration featuring TriAD triple acoustic detection. This remarkable imaging capability gathers not only reflected echoes, but quantifies sound speed and attenuation signals transmitted through the breast.
The tomographic coronal image presentation delivers an unrivaled view of the structure of breast tissue, and depicts tissue attributes of sound speed and attenuation that can assist physicians in distinguishing normal tissue from areas of concern.